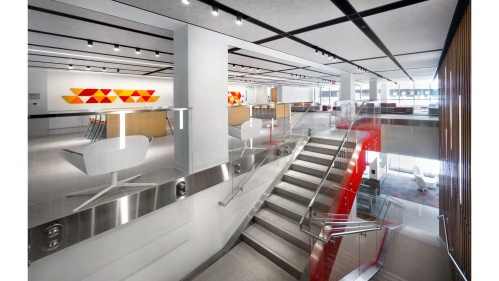 University Classrooms
Academic Scheduling processes all reservation requests for University classrooms at RU-N. If you are faculty, staff or an RU-N recognized student organization that would like to reserve a classroom, please submit a request via the RU-N Space Reservation System.
While we will make every attempt to fulfill your request(s), classrooms are not guaranteed for non-academic use.  If your request is approved you will receive a confirmation email.  The confirmation should be reviewed to confirm the actual room assignment, date(s) and time(s).
For more information on the types of classrooms available, please visit the Classroom Search page.
University Classroom Policies
Food and beverages are prohibited. Violation of this policy may result in additional charges.
Events in university classrooms must be compatible with the academic nature of the space and be operated in a manner that does not adversely impact the classroom, its contents, or the surrounding area.
Event attendees may not exceed capacity.  The seating capacity for each classroom is set to meet the posted fire codes.  Adding chairs or tables to increase capacity is prohibited and violates law.
Under no circumstances is furniture or other property to be removed from the reserved room or any other classroom as it adversely impacts academic courses and maximum occupancy.    
Paul Robeson Campus Center
Paul Robeson Campus Center
Contact:  Campus Reservations
Phone:  (973) 353-5568
Email:  resv@newark.rutgers.edu
15 Washington
Contact:  Campus Reservations
Phone:  (973) 353-5568
Email:  resv@newark.rutgers.edu
Center for Law and Justice (CLJ)
Contact:  Ginny Caputo
Phone:  (973) 353-3055
Email:  ginnyk@kinoy.rutgers.edu
1 Washington Park (1WP)
Contact:  Jennifer Martinez
Phone:  (973) 353-2562
Email:  jmartinez@business.rutgers.edu
School of Nursing Spaces in Ackerson Hall (ACK)
Contact:  William Noel
Phone:  (973) 353-3684
Email:  wnoel@rutgers.edu
Website:  http://nursing.rutgers.edu/rooms/
John Cotton Dana Library
Request space for:
Express Newark (Hahne Building)
Contact:  Campus Reservations
Phone:  (973) 353-5568
Email:  info@expressnewark.org